Concerns grow over Liberty Street collapse | News

JACKSONVILLE, Fla. — It's been nearly a year since a major collapse of the Liberty Street Bridge.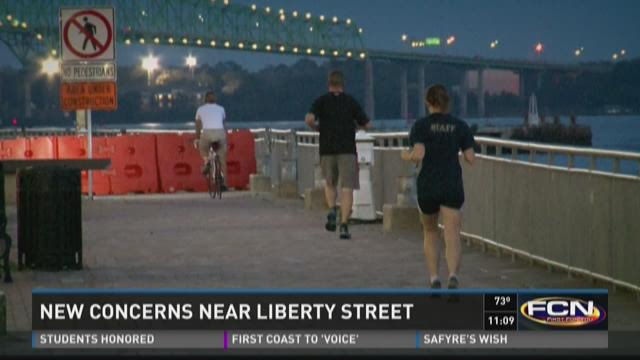 Now, there is a new cause for concern.
According to city emails First Coast News uncovered, the deterioration continues, which could cause further impacts to Coastline Drive in front of the Hyatt Regency, one of the largest hotels in Jacksonville.
There's a $37 million proposal to make repairs to this area, but the plan has not been approved and the work has not started. This is leaving residents wondering about the future of Jacksonville's Northbank.
"There's just not a lot of safe places in Jacksonville in the middle of the city to actually run without having to cross a lot of intersections," said runner Brittany Riccaboni. She says losing Coastline Drive to construction would be detrimental.
First coast news obtained emails between the city and the Hyatt Regency which reveal growing concerns that the Florida Department of Transportation may shut down another portion of areas along the Riverwalk, including access to the hotel due to deteriorating structure.
"I think it needs to be repaired, I mean it's a blot on Jacksonville not to have their major tourist attraction fully opened," said Charlie Farr, who says he also enjoys using the Riverwalk.
Riccaboni says a lot of people would be affected if it closed. "A lot of run clubs and high school cross country teams that train here would be greatly affected, I think they would be left looking for a place to run safely."
We asked city officials to see November's FDOT inspection report on the bridge's condition, but we were denied access because the city says the reports aren't public record.
Coastline Drive and the Riverwalk remain open despite fears that whatever is happening below the surface is getting worse. Despite the eyesore residents are looking forward to the day that the caution tape and barrels will be gone.
"It's also a very positive thing for the city to get to see the skyline and the bridges," said Riccaboni.
If the plan is approved, it could be completed within 2 and a half years.