Parts of Coastline Drive to remain closed in wake new FDOT order | News
JACKSONVILLE, Fla. — Coastline Drive, between Liberty Street and Market Street will remain closed, per order from the Florida Department of Transportation in wake of the Liberty Street collapse.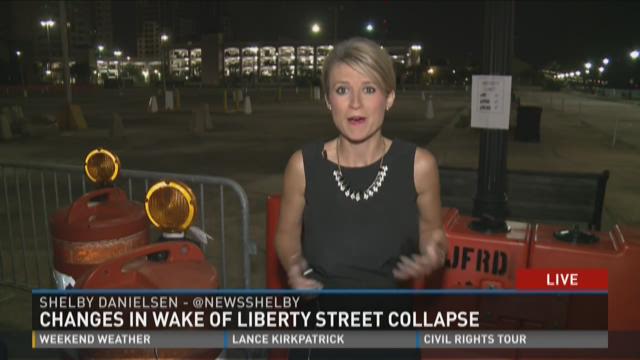 The order, along with four others, was released in an email from Mayor Alvin Brown's Chief of Staff, Chris Hand, to City Council members Friday afternoon.
It comes on the heels of a request of the city to FDOT for a review of Coastline Drive between Liberty Street and Market Street in front of the Hyatt Hotel on the St. Johns River.
Coastline Drive from Market Street to Newman Street will also now be one-way only and have a speed limit of 15-miles-per-hour, according to the new orders from FDOT. A three-ton weight limit was imposed on the street and will remain in effect.
Inspectors will now examine Coastline Drive between Market and Newman every six months.
The new guidelines - including the road closure and weight limits - will remain in effect until the bridge is completely replaced or 'otherwise remediated,' although the email does not mention specifics regarding what said remediation may be. Enclosed in the email is the assurance that the city, along with the FDOT, will expedite a plan to fix the area.
Officials say the Hyatt hotel is fully aware of the proposed changes and is active in helping the city find a solution.
Previously, a 2013 FDOT inspection of parts of Liberty Street deemed the area 'structurally deficient,' but a spokesperson for the city, David Decamp, said that inspectors did not feel the need, at the time, to place it under closure.
Townhomes along the St. Johns River went without power for nearly a month after a large section of South Liberty Street collapsed in February.
The city footed the bill to replace the damaged transformer - an estimated cost of $200,000 according to Decamp - but homeowners in the area were still angry: "No association can possibly prepare for a catastrophic situation that is caused by improper and negligent care of a city bridge structure," lamented Andrew Beaudoin, the spokesperson for the homeowners association.
The city plans to have the new measures in place by next week.